A modern and comprehensive cloud based Asset Integrity Management System (AIMS) platform that can be deployed with optimum efficiency for anomaly management.
The main objective of an anomaly management system is to identify threats and track anomalies throughout their life cycle, from the point they are discovered, managing all repair and mitigation tasks, to final close out on any asset and component type. The anomaly management modules cover upstream, downstream and mid-stream assets, and covers different equipment groups,
Static Equipment (Piping, Pressure Vessels, Columns, Heat Exchangers, Safety Valves etc.)
Rotating Equipment's
Structures (Offshore topside & subsea and onshore structures)
Pipelines (Onshore & Offshore)
Marine Systems
FPSO Hull
Anomaly Management Workflow
The anomaly management work process is depicted here in the diagram, this is fully configurable to user requirements. This model allows increasing and decreasing the number of steps for anomaly management work process, simply by configuring it.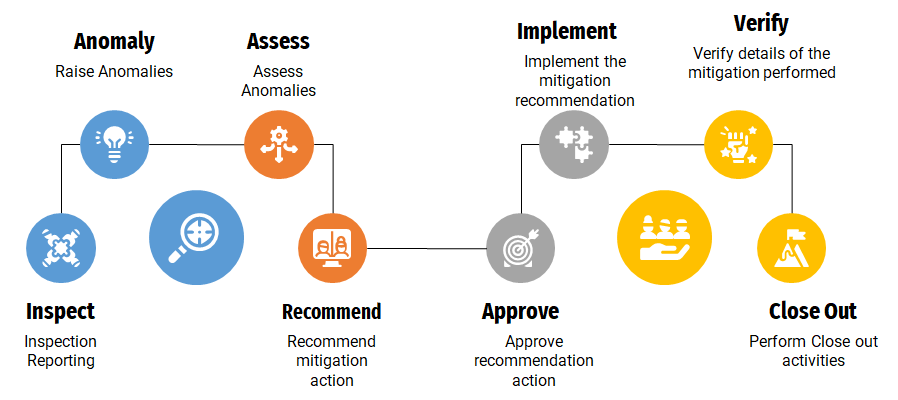 Anomaly Management Features
α-phe platform comes with the various features, this is automatically available in anomaly management module, this enables complete visibility and collaboration between various responsible parties and systems involved in the management of anomalies.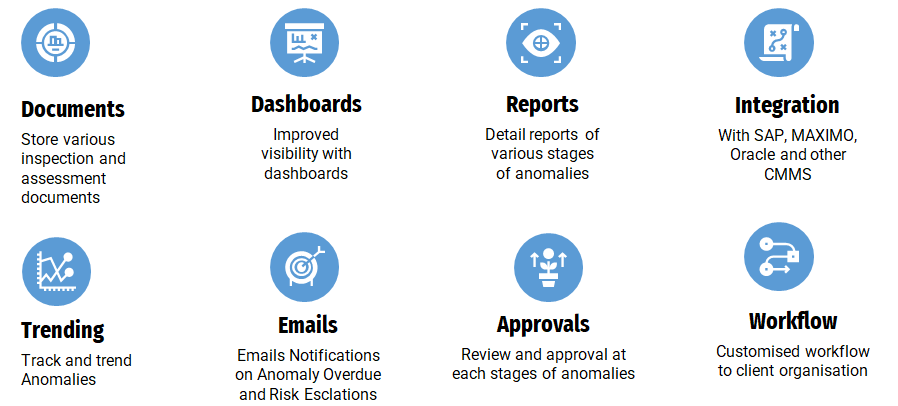 Recommendations
Various recommendation are derived from anomaly management module, these anomaly recommendations are tracked until close out of the anomaly.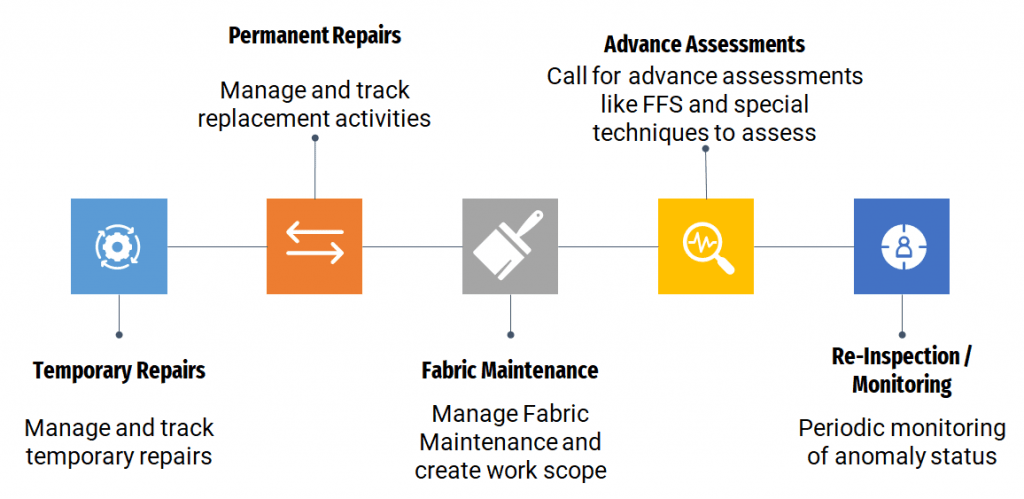 Integration with CMMS (SAP / MAXIMO / ORACLE E-BUSINESS SUITE / Others)
Integrates to any Computerised Maintenance Management System (CMMS) software using α-phe Integration gateway to implement and close the repair and replacement corrective maintenance recommendations derived in Anomaly Management process. Checkout the links below for integration details.
Advanced Assessments : Integrate to α-phe FFS Model
Anomalies that need assessment using API 579 Level 1 and Level 2 will be seamlessly integrated with α-phe FFS Model. The FFS results will be taken back into anomaly mitigation recommendation for action. See the details of FFS in the below link.
Value Proposition
Central repository anomaly management, analysis and reporting
Enabled standardization of anomaly data input from identification to closeout
Transparency and Visibility of all anomalies on multiple assets from dashboard
Track for anomalies with Temporary Repair, until close out
Configurable workflow management
Improved condition management of assets
Filter the records with a range of search parameters
Apply remedial and mitigation tasks
Track & trace progress by task type, assigned action party and due dates
Anomaly management system can be implemented rapidly.
Software is very intuitive and requires minimum training
All the fields in the anomaly screens are configurable, fully dynamic.
Readily adopted, accepted and relied upon by personnel at all levels and job roles.
No administration time required and upkeep of anomaly information
Easily can generate work packages from the anomaly register
Average 40% time saving plus efficiencies and cost reduction
Instant access to your information: any time, any where
Runs on any browser or tablet with an internet connection
No local software or dedicated hardware to install or maintain
Cost reduction through your increased knowledge efficiency
Request for free Demo / Quote
Schedule a 30 minute to 1hr call
In the 30-minute to 1hr call we will demonstrate the software and explain the concept around the software, we will clarify all the queries you may have. The demo will be scheduled over Microsoft Teams. The link to connect will be provided after reviewing the submission of the request for free demo form below.