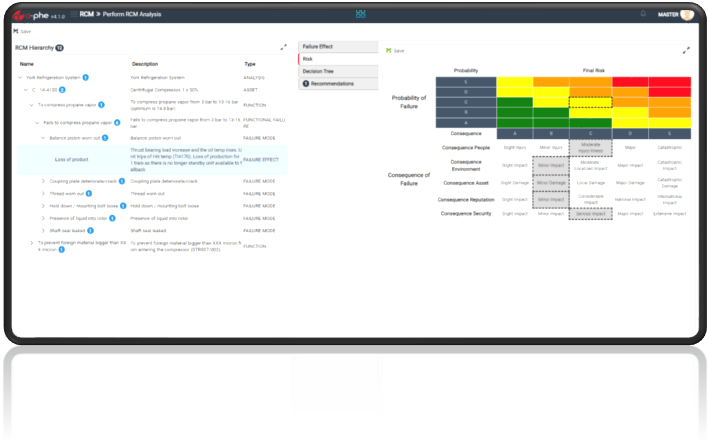 A modern and comprehensive cloud based Reliability Centered Maintenance (RCM) platform that can be deployed with optimum efficiency.
α-phe performs RCM analysis using FMEA using John Moubray RCM2 methodology and compliant to SAE JA1012 and SAE JA1011. The application of RCM leads to greater safety, environmental integrity, higher reliability and uptime, lower maintenance cost and higher motivation of workforce.
α-phe RCM does so by asking the following seven questions:
What are its functions (what do its users want it to do)?
In what ways can it fail (functional failures)?
What causes it to fail (failure modes)?
What happens when it fails (failure effects)?
Does it matter if it fails (consequences of failure)?
Can anything be done to predict or prevent the failure?
What do we do if we cannot predict or prevent the failure?
α-phe RCM considers the following recommendations:
Predictive maintenance
Condition-based maintenance
Preventive maintenance
Failure finding tasks)
training, procedures, redesigns
Run-to-failure
α-phe RCM features and Functionality Includes the following
Asset Registration for RCM based on ISO 14224
Asset Property / attribute definition per tag class
Criticality Assessment approaches FMEA / FMECA
Configurable Risk Matrix
Task Selection Roadmap asks for RCM questions
Connection to existing Jobs / OEM
Create PM tasks from the Task Selection
Create PM / CM Recommendations
Sanity Check of selected PM Task
Integrate with CMMS Software like SAP, MAXIMO, etc…
Reports – Printable
Oreda Data references for failure rate
Store all assessment related document with the FMEA data.