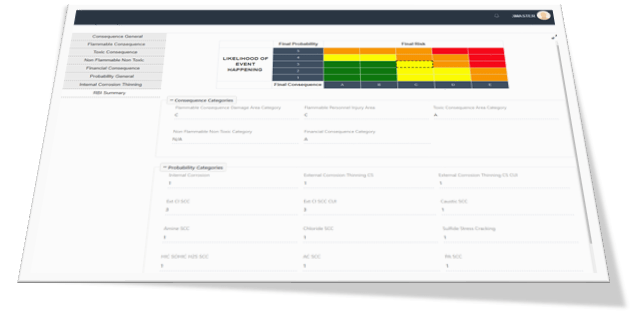 Ankaa Consulting adopts a risk based approach to AIM.
When developing an RBI scheme for an asset, we adopt a two stage approach. Initial risk is determined utilising a qualitative or semi-quantitative approach. High risk items identified after this stage are then subjected to a quantitative risk assessment to greater refine the calculated risk. This approach offers a highly cost effective approach for the risk determination and inspection planning process.
Items with a high risk are given a higher priority for inspection while medium and low risk items are given a lower priority. This is achieved by relating the level of risk calculated to required inspection intervals.
RBI assists a company to select cost effective and appropriate maintenance and inspection tasks and techniques, to minimize efforts and cost, to shift from a reactive to a proactive maintenance regime, to produce an auditable system, to give an agreed "operating window", and to implement a risk management tool.
The benefits of RBI include:
To provide a holistic, interdependent approach for managing risk
Identification of equipment operational risks through identification of their failure mechanisms.
To apply a strategy of doing what is needed for safeguarding integrity and improving reliability and availability of the asset by planning and executing those inspections that are needed
To reduce inspections and shutdowns and increase plant availability without compromising safety or reliability
To safeguard integrity and reduce the risk of failures
To provide a dynamic system that continuously improves and adapts to changing risks
To ensure inspection techniques and methods consider potential failure modes
To reduce inspections for low risk items allowing costs to be optimised more appropriately to high risk items.