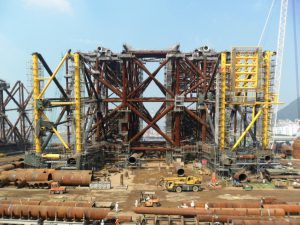 Inspection is a well-established practice as it is a necessary activity in achieving required quality and compliance in greenfield and modification projects. Such projects involve coordination of project personnel, vendors and material and components. Therefore, this carries an inherent risk in non-conformance and not meeting targeted project quality.
Inspection is carried out to give an independent view of the works either for the client or 3rd party.  This is to ensure facilities meet project specification during construction, installation and commissioning activities. As these activities are extensive in their scope and scale, inspection resources required are with varied    disciplines, qualifications and experience. Ankaa Consulting has  access to comprehensive inspection resources to meet its client's inspection and quality control requirements. This assures these  activities are executed in accordance with international codes and standards, related procedures and quality plans.
Construction
We offer auditing and verification of activities related to construction including;
¨ Non-Destructive Testing procedures, equipment and personnel qualification shall be reviewed and approved.
¨ WPS, WPQR and WQT, on and offshore shall be reviewed and approved.
¨ Hydrotest Procedures, Equipment and Records for on and offshore shall be reviewed and approved.
¨ Approval of all quality related records not limited to Dimensional Control Sheets, As Built Drawings, NDT Reports, Hydrotest Reports, Heat Treatment Reports, Assembly Lifting Procedures and Weighing Procedures.
We shall review EPCIC's quality systems, procedures, programs, quality plans, Inspection Test Plans and confirm that such are implemented including;
¨ Material control from material receipt to installation.
¨ Control of welding and welding consumables.
¨ Welding Inspection.
¨ Post Weld Heat Treatment.
¨ Non-Destructive Testing.
¨ Protective Coatings
¨ Pipework Hydrotesting and Leak Testing.
¨ Electrical and Instrumentation Installation.
¨ Pressure Testing MV Systems
¨ Testing of Safety Systems.
¨ Weight control and weighing.
Commissioning
Auditing and verification of activities;
¨ Review of the hook up and commissioning procedures.
¨ Proper integration of the equipment and sub systems into the various functional systems;
¨ Emergency Shut Down System.
¨ Smoke, Fire and Gas Alarms.
¨ Fire Fighting System.
¨ Life Saving Appliances.
¨ Emergency Alarms.
¨ Emergency Lighting.
¨ Radio, Navigation Aids.
¨ Pressure Containing Parts
¨ Pressure Relief Systems.
¨ Escape Route Markings and Clearances.
¨ Checking of final line punch and complete purging of all hydrocarbon piping and equipment.
¨ Endorsement of test reports.
Installation
We offer auditing and verification of activities related to installation including;
¨ Jacket pre-emplacement survey
¨ Jacket positioning and levelling
¨ Piles welding, docking and grouting
¨ Conductors welding, driving and completion
¨ Installation of jacket accessories e.g. boat landing, fender, riser guard, caisson and tie in.
¨ Deck installation and mating
¨ Deck levelling and deck to jacket leg welding
¨ Installation of deck and jacket   transition pieces
¨ Post jacket and deck installation survey.